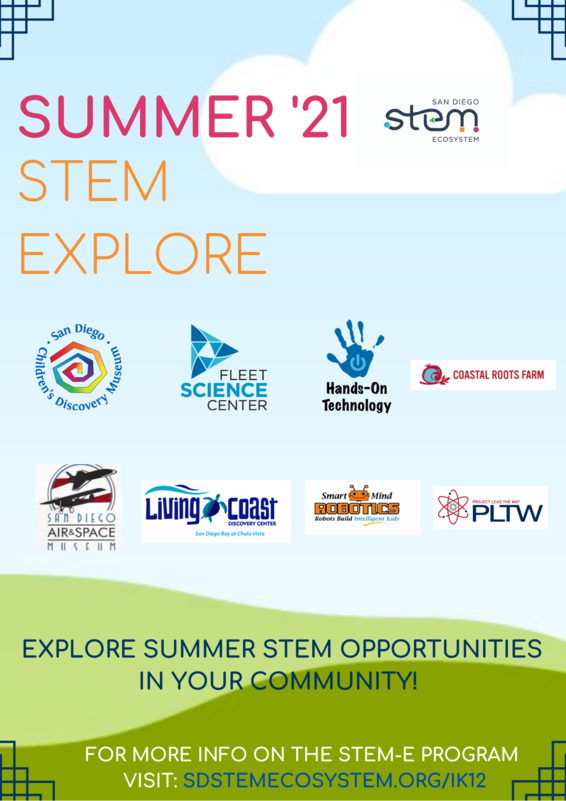 STEM-E Initiative
STEM-E is a collaborative program by the San Diego STEM Ecosystem that encourages the STEM Community to Explore STEM in the Summer of 2021! 
The program's goal is to offer a curated "menu" of summer programs to the community so that parents can explore STEM programs that complement each other, fit their summer schedule, and operate under similar standards of excellence.  
About Us
The Innovation in K-12 working group is composed of a variety of partners focused on K-12 STEM education in both formal and informal settings.
We meet on the second Friday of the month from 10:00-11:30 a.m. to share updates and move our initiatives forward. Get involved.
Our Goals
1. Connect students to the world of work, internships, and employment;
2. Convene classroom and community educators, school and community leaders, and industry professionals around promising, innovative practices, and;
3. Connect content areas in the out-of-school time space to what is happening in the classroom.
STEM Educator Meetups
We host monthly STEM Educator Meetups focused on networking and sharing virtual learning strategies and best practices to empower students in STEM through distance learning.
Occurs on the third Wednesday of every month from 4:00-5:00ish. 
*Stay tuned for the return of in-person Meetups fall 2021*
Get Involved
We meet on the second Friday of every month from 10:00-11:30 a.m. Our meetings are currently hosted on Zoom. Complete the interest form to get added to our mailing list and calendar invites.