Proudly collaborating with these organizations
Our mission is to educate, inspire, and connect underserved youth living in Pacific coastal communities of the U.S. and M.X.
CBOs, Family/Parent Organizations, Youth Organizing & Advisory Groups
At Birch Aquarium at Scripps, we connect understanding to protecting our ocean planet.
Museums, Science Centers & Zoos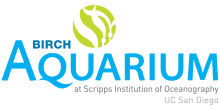 Enhances learning through nurturing our innate curiosity, and that wonderful feeling when we discover something new.
Afterschool/Out-of-School Time