A Day in the Life of a STEM Role Model
Post Category
Success Stories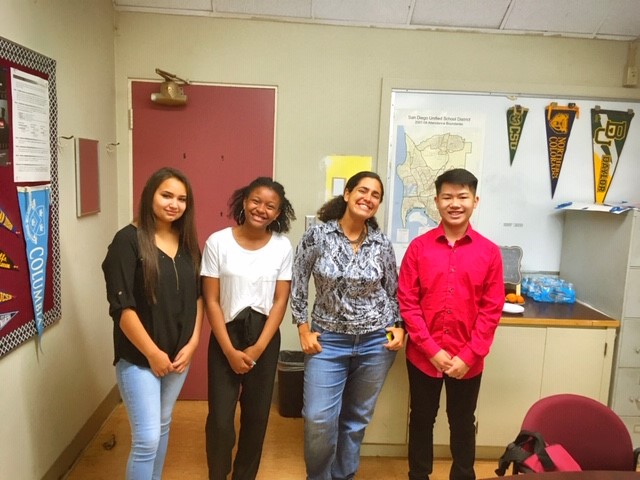 Contributed by Ivel Gontan (third from left)
Community Programs Senior Manager at the Fleet Science Center
If you had asked me 10 years ago if I thought I would have been sitting in this digital media recording room of a high school about to give an interview on what it's like to be an underrepresented STEM professional, I would have looked at you as if you had a third eye in the middle of your forehead. That is one of the biggest reasons that it was so important for me to be there; people like me need to see and know that there are people like them in STEM (science, technology, engineering, and math) careers. The 11th graders asked me questions about my path, what challenges I faced, how I overcame barriers, and what some of my career highlights were. Their curious faces intensified as I talked through what it felt like to navigate this world as someone different, and brightened when I talked through the joys and unique experiences my professional career have allotted me.
When you are young the world can seem small, especially if your family does not have the means to take you on trips outside your town or home state. There is so much you don't know, and increasingly so much pressure to figure things out with little exposure or awareness of the possibilities. That is one of the reasons I think it's so important to be a role model: the message of how I got here and how I was able to align my career with my values is one not often heard. There are other subtle messages that I think are important too, like not having to know exactly what you want to be right away, and taking some time to find yourself and learn what is important to you. A circuitous path is more likely (and adventurous!) than a straight line; you don't want to spend a whole lot of money only to find out you've been on the wrong track.
One of the biggest messages from where I sit in my current role managing programs at a science center is that you don't have to like or be good at STEM subjects to find your way to a STEM career. When I was in high school, I didn't know I could have a job at a science museum, let alone that work could be fun and personally rewarding! These are not the stories you usually hear, and yes, it is very challenging, but the rewards of doing it by yourself far outweigh any challenge. It was important to me to share that even though you don't face direct discrimination, you are still living in a society that places you at a disadvantage. As a result, you should seek out and pursue all of the scholarships and opportunities you can and try to level the playing field and advance yourselves.
What does it mean to be a STEM role model? For me, being in a place where I can have it all—a beautiful family life, a rewarding career I am passionate about, and the ability to promote science with communities that need it most—is something I want to share. Mostly because I want others to know that they too can have these things, but also because I want to magnify my impact. Being a role model is showing youth that look like me that being an adult can be fun and STEM is a great option of a career they should consider. Even if they're bad at math!
Learn more about the San Diego STEM Role Model initiative and how to get involved.